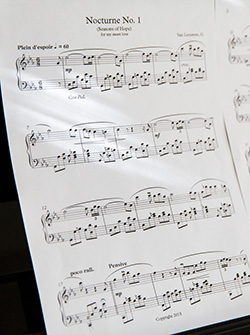 Debut Composition project:  
EDEN – a cycle of 8 piano pieces inspired by the Garden of Eden. All pieces composed and performed by Giovanna Van Leeuwen                                                                                                                    
OUT NOW: on Spotify and Itunes and all streaming platforms!   Spotify – Eden  Giovanna Van Leeuwen – Eden (hearnow.com)
The theme draws from Creation in the book of Genesis, transporting you back in time to Eden a place of fresh joy, refreshment and restoration!
Music CD and sheet-music to be launched soon!
I explore composition through improvisation and combine both my knowledge of structured classical music and elements of jazz improvisation in creating music that paints a story through sound, forming a contemporary and approachable style of music, for the enjoyment of students, performers and music listeners.
My compositions engage in exploring social & spiritual themes, taking the performer on a musical journey!
Subscribe to my YouTube channel.
EDEN:   Music tracks  –  all compositions written and performed by Giovanna Van Leeuwen:
Listen to full album on Spotify or itunes
1/ In the Garden
2/ In the Beginning
3/ Fragrance of Heaven
4/ Bird of Paradise
5/ Rays of Light
6/ Eden
7/ Four Rivers
8/ Tree of Life